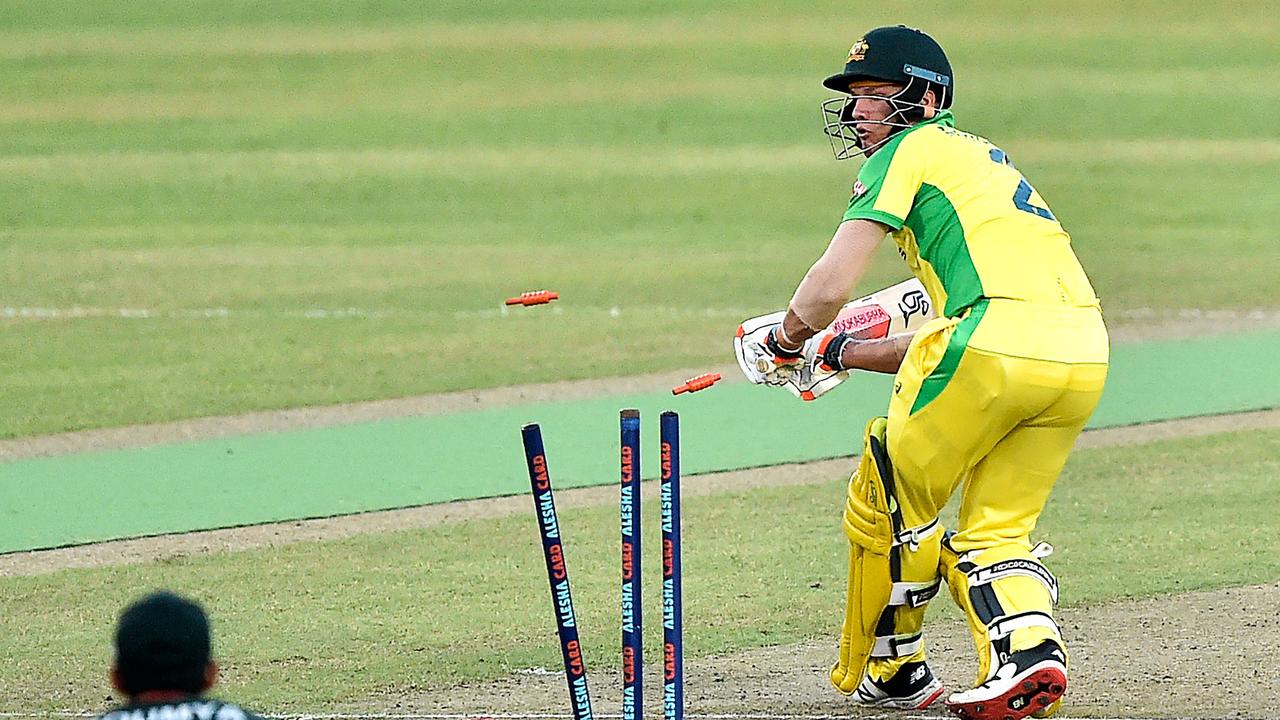 T20 World Cup news; Australian great Ricky Ponting worried about poor wickets for marquee event
The T20 World Cup in the United Arab Emirates is going to be played on pitches that are starting to show worrying signs.
Australian captain Aaron Finch is hoping new pitches will be used at the T20 World Cup after Ricky Ponting expressed serious concerns about the "tired" wickets in the United Arab Emirates.
Ponting is the coach of the ladder-leading Delhi Capitals in the IPL, which has played all its games at the same venues set to be used for the World Cup after the competition was moved from India.
Since the tournament's resumption last month, there have been 25 matches played across the venues in Dubai, Abu Dhabi and Sharjah. Statistics show the average scores have been lower than when it was played in India, and strike rates for batsmen have dropped off too.
Ponting said it was "not a good sign" for the World Cup, which begins on October 23 when Australia takes on South Africa in Abu Dhabi.
"There's got to be a little bit of concern with the T20 World Cup coming up, what I've seen from the wickets we've been playing on now," Ponting told Channel 7.
"They actually seem quite tired, and they're slow and low already. That's probably not a good sign for what the wickets might be like for the World Cup."
An Australian team without most of the players headed to the World Cup was badly beaten by Bangladesh on low, slow wickets in Dhaka in August, losing four of five T20s.
Australia's average batting score in that series was just 102 and they were bowled out for just 62 in the final match.
Before he flew out with the squad on Thursday, Finch conceded there could be some low scores based on information flowing back from Australians at the IPL, including Glenn Maxwell and David Warner.
Australia will play its five pool games in Dubai and Abu Dhabi, and Finch said they wouldn't go there with "blinkers on" about the conditions, hopeful different wickets could be in place for the tournament.
"I think we're going to be playing on different wickets. I think they've tried to use as few wickets as possible for the IPL and then have fresh ones ready to go for the start of the World Cup," Finch said.
"I think that it's important that we don't get sucked into to having preconceived ideas on how the wickets are going to play.
"I think if we just go about it with a really open mind and use experience to communicate the type of surfaces really quickly, I think that can be really valuable as well.
"But Dubai is generally a little bit lower scoring than Abu Dhabi, which is a big ground, there's chance for like the twos, they're probably a little bit more Australian-like in terms of a bit more pace in the wicket.
"We'll have to be really flexible with the way that we pick our side and the way that we structure up depending on the conditions."