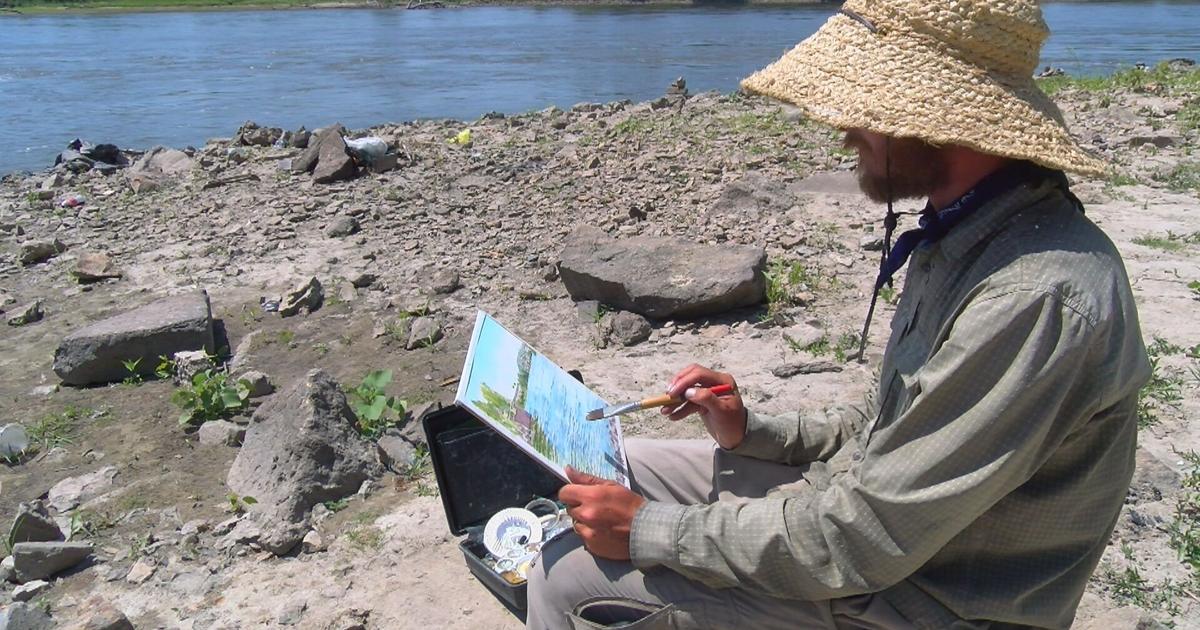 Kansas City man paddles and paints along the entire Missouri River | News
(ST. JOSEPH, Mo.) Steve Snell lives in Kansas City, so he's already familiar with the mighty Missouri River. But right now, he's in the middle of a long journey, paddling the entire river from it's beginning to end. And he's painting along the way.
The Missouri River is the longest river in the United States, and also one of the most dangerous. But that didn't matter much to Steve.
"People warned me to stay away. They said you don't know how dangerous it is, how polluted it is. And if anything that just made me even more curious," Steve Snell said.
Steve teaches art at the Kansas City Art Institute and was given a big opportunity recently that you could think is a little crazy.
"I was awarded a teaching sabbatical for the fall semester. So the project that I proposed was to float the entire Missouri River in a canoe, produce a film along the way, as well as a series of paintings," Snell said.
He started his journey in early June at the river's headwaters in Montana. He's met lots of friendly people along the way who offer him food or a place to stay for a night.
"There's also a network of people that look out for travelers like me. And they call themselves river angels," Snell said.
is paintings show what he sees as he's paddling down the river, and he can't keep them all in his canoe. So every once in awhile he stops near a town and sends them in the mail to his wife.
"It's all watercolor and oftentimes, you know, you just get some water from the river itself and that becomes a part of the painting. My kind of concept there is like imagine, Bob Ross on the Missouri River," Snell said.
He says the hardest part isn't getting tired from paddling or trying to stay safe in his tent when he sleeps at night; it's being away from his wife and son that makes the long journey difficult.
"It's been just a gift that I was able to do it at this time in my life–step away from work for a little while. And my wife has been very supportive and allowing me to do this, especially with a two-and-a-half year old son at home," Snell said.
After all the new things he's learned and experienced while paddling the river, he hopes to not only inspire others with his adventure, but to also show everyone how the river should be appreciated.
"It's a river that I think you need to respect. I think there's a healthy thing to being a little bit fearful of water. And to treat it with respect, wear a lifejacket and know what you're doing. So don't be scared of it, but you know, be responsible at the same time, and enjoy it," Snell said.
Steve says when he gets home he will make a show out of the photos and videos he's taken during his journey.