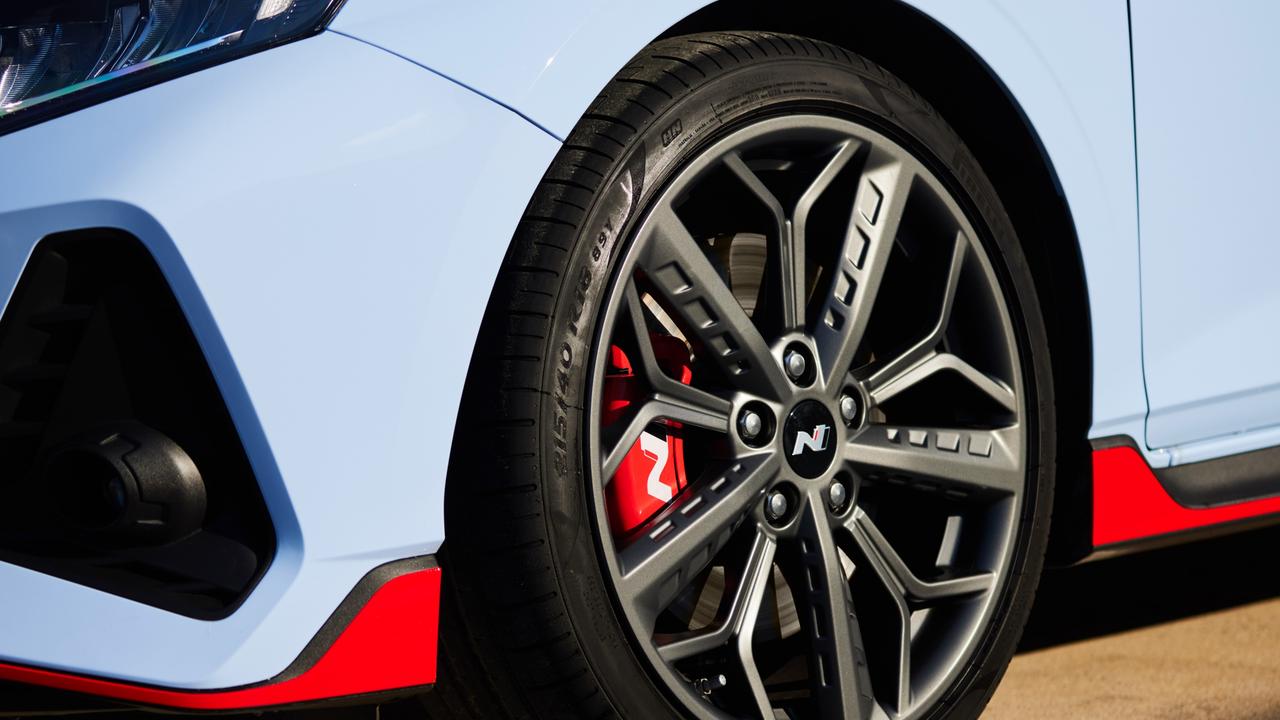 Hyundai i20N review: price, specs, driving impressions
Hyundai created an instant hot hatch legend with its i30 N and the smaller follow-up act i20 N brings more of the same for less dollars.
FIRST IMPRESSIONS
IAIN: It has the looks, the power, the manual gearbox and a chassis from the gods. I want one.
JULES: Isn't your mid-life crisis car supposed to be a Porsche 911 or Ford Ranger Raptor?
IAIN: Too expensive. This baby blue Hyundai with World Rally Championship aspirations will do fine.
JULES: It's also tiny.
IAIN: But it has more space than a Mazda MX-5 or Toyota GR86. There are proper rear seats so our kids can enjoy the fun.
JULES: I like its aggressive face, crystal-like headlights and go-fast red bits on the bumpers and side skirts.
IAIN: I Iove its purposeful, sporty stance on black 18-inch alloys but could live without the stick-on roof spoiler. I'm ready to relive my teenage hot-hatch glory days.
JULES: You're tragic. How much is it?
IAIN: Hyundai's had to pause orders due to demand, but it costs about $39,000 drive-away. The cheapest used one is $40,000, while dealers are asking up to $48,000 for a demo model.
JULES: That's a lot of money for a little Hyundai.
IAIN: It is, but try finding similar for the money. Criminally, the Ford Fiesta ST been pulled from sale; the auto-only Volkswagen Polo GTI's $43,715 drive-away, while an all-wheel-drive Toyota GR Yaris is $49,500 plus costs.
THE LIVING SPACE
JULES: Okay, I'm sold. It's roomier than I expected and the sculpted racing seats with blue stitching and blue details on the steering wheel are cool. There's a digital dashboard too.
IAIN: It feels racy. You sit really low and the steering wheel's a meaty unit, albeit too large for my liking. The alloy pedals are ideally spaced for heel-toeing and rev matching is available.
JULES: It's got all the kit you need for daily driving. A slick 10.25-inch infotainment screen, Apple CarPlay/Android Auto, a wireless phone charger and Bose audio. It's no bare-bones race car.
IAIN: The doors and centre console have some hard plastic but if that leaves more budget for go-fast bits, I'm happy.
THE COMMUTE
JULES: Okay, so it's maybe not an ideal daily driver.
IAIN: Go on.
JULES: It's enjoyable, responsive and the gear shifts and clutch are light enough but the seat bolsters aren't easy to clamber over and it's crashy on bad roads.
IAIN: A fair trade-off. My hand bumped the seat edge when shifting into sixth gear, and at highway speeds there's noticeable engine drone and tyre noise.
JULES: Good job the Bose audio's so good. The lack of radar cruise control's annoying, but seats are comfy.
IAIN: Really? They're well bolstered but the back rest is particularly firm. My back wasn't happy after two hours driving.
JULES: You've gone soft. I always looked forward to driving the i20N as it's so approachable. Quick, but not scary.
THE SHOPPING
IAIN: There's a rear camera and the i20 N's so small it's a breeze to park.
JULES: The weekly shop just about fits in its titchy boot, but not much else.
SUNDAY RUN
IAIN: Hyundai's five-year warranty covers non-timed track use. That shows confidence in the car and is a win for enthusiasts.
JULES: So you had to take it on track to prove it?
IAIN: Exactly. I tested one at Queensland Raceway and it was a lightweight delight carrying surprising cornering speed. Its clever mechanical limited-slip differential up front and Pirelli tyres help give incredible traction and grip, sucking you into a corner's apex.
JULES: Right. And then you took it hill climbing?
IAIN: We were careful but we still went quicker than a Toyota GR Yaris, Subaru BRZ, Ford Focus RS and VW Golf R.
JULES: It was hugely popular in the pit lane.
IAIN: People just love a relatively affordable fast car; especially practical ones like the i20N. After daily duties it can be a personality-packed, entertaining and hero-making weekend toy.
JULES: I think you like it.
IAIN: It's easy to see why it's sold out. It has a lovely snickety manual gear change and there's ample turbo shove from the 150kW/275Nm four-cylinder. Just hit the steering wheel's 'N' button and the fun begins.
THE FAMILY
JULES: Our two kids didn't grumble about space, despite no rear air vents.
IAIN: We'd need it to be a second car; it's just too small to work as a family hauler.
JULES: There's decent active safety and fuel bills wouldn't be terrible. We averaged 6.5L/100km until you did the hill climb.
IAIN: That pushed the average up to 8.9L/100km over our 730km total. Totally worth it.
THE VERDICT
JULES: Why aren't there more cars like this? The world could use more fun right now and the i20 N delivers. If only it was a bit larger it'd be perfect for us.
IAIN: We could get Hyundai's bigger i30 N instead and leave the i20 N for childless thrillseekers. But the baby hot hatch is a revelation and it's roughly $10,000 cheaper than the i30 N. We'll miss such cars when they're gone.