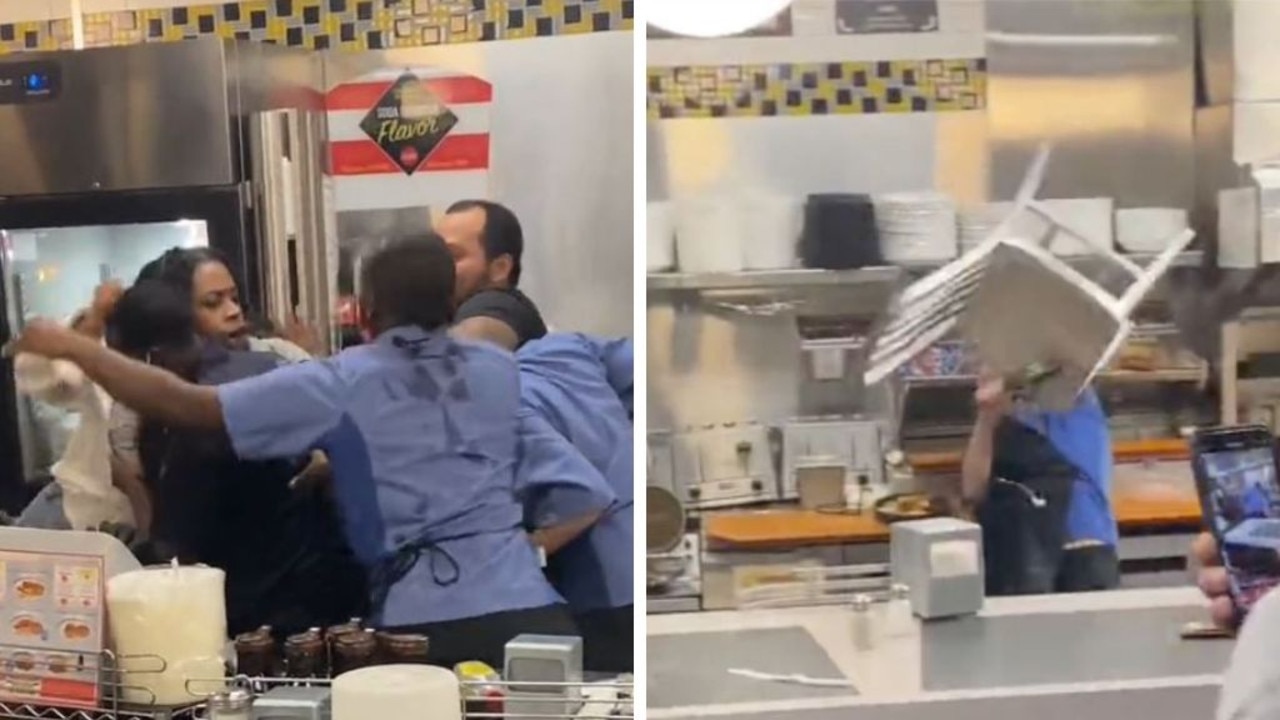 Footage revealed of Christmas Day brawl at US Waffle House restaurant | Video
WARNING: Explicit language
A dispute between employees and customers at a US restaurant turned violent after the eatery got a takeaway order wrong on Christmas Day.
Footage has emerged of the chaotic incident which unfolded at Waffle House in Madison, Georgia, with the video posted on Twitter.
The clip, which has had 2.9 million views, begins with shouting between staff and a table of customers in the fast food restaurant, before one woman is seen standing on the counter of the eatery.
Something is then thrown before two women are seen getting on to the counter, with one falling into the food preparation area.
Then the footage shows items and punches being thrown as mayhem erupts between employees and customers.
A line of people at the window of the restaurant can be seen filming the exchange as a male employee is seen stepping in to break up the fight.
But before the video ends, two chairs are then thrown at staff behind the counter – with one incredibly caught one-handed by a female staff member – as the man filming is heard shouting: "Chill – y'all going to go to jail."
Want to stream your news? Flash lets you stream 25+ news channels in 1 place. New to Flash? Try 1 month free. Offer available for a limited time only >
According to local newspaper, the Morgan County Citizen, police responded to a disturbance complaint at the restaurant.
When officers arrived, they saw several people outside the restaurant "yelling".
Roderick Ramone Brown, 35, told police that he had placed a takeaway order and when he received the food, it did not correspond to what he had requested.
He then engaged in a verbal argument with the restaurant manager.
Reports state that Alexis Shaianne Smith, 27, was allegedly "acting belligerent" when a police officer tried to speak with her about the clash. She was then placed in a police car.
The Waffle House manager told authorities that there were several children inside the restaurant at the time of the incident.
She said she offered Mr Brown a refund for the mistaken order and as she and Mr Brown were walking outside the restaurant, Ms Smith allegedly took a swing at the manager.
Both Ms Smith and Mr Brown were arrested and taken to Morgan County Detention Centre in Georgia and booked into jail.