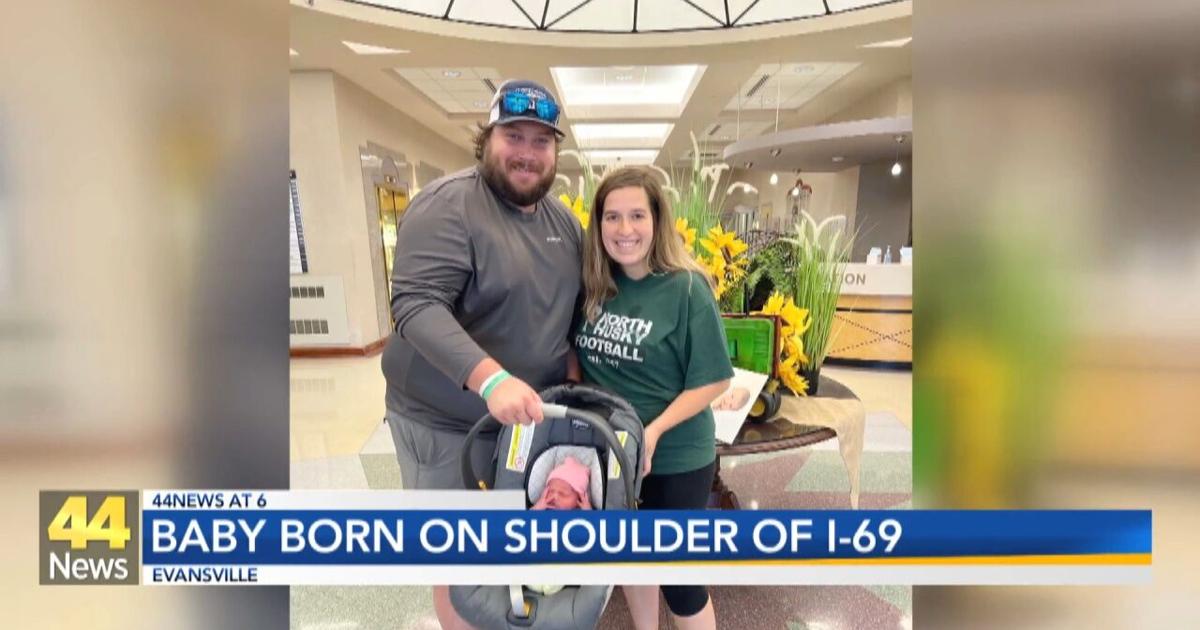 Evansville mother gives birth on the side of I-69 | Indiana
A local father delivered his wife's baby after she went into labor. But, it wasn't in the hospital or at home.
The heart pounding moments were caught on an exhilarating 911 call.
When Emily Waddell realized she might be going into labor, she called her husband home and headed towards the hospital.
"Even at that point, whenever I told him to come home, I wasn't even positive that the baby was coming," says Emily.
As a mother of 3, it wasn't her first rodeo. However, this time would be different.
"Whenever we were getting on the interstate, I said out loud, 'I do not want to have a baby in the truck.' Stephan was like, 'Don't worry, you're not going to,'" Emily tells 44News.
Stephan, Emily's husband, said it wasn't long after that that Emily grabbed his arm and told him he needed to pull over.
The two pulled to the side of I-69 near mile marker 12 and called the police.
"We knew the baby was coming. We knew it was just us there," Stephan says.
Stephan says he took his shirt off and prepared to catch the baby when she came out.
He did just that.
"I found an iPhone charger in my truck and ties the umbilical cord off with that," Stephan tells 44News.
As the couple waited for an ambulance to arrive, Emily was able to suction out the baby's mouth and nose. Then, she called her sister who is a labor and delivery nurse.
"My sister was like, 'Are you joking? No! You did not just have a baby on the interstate.' We were like, 'Yes, we absolutely did,'" Emily says.
Reagan Waddell was born on September 12th, 7lbs 10oz, at mile marker 12.
"Luckily, between the people on the phone and my sister and just recently having children, we were able to make things go smooth and definitely had some guardian angels looking out for us," Emily tells 44News.
"What I told Emily when all was said and done, we were back at the hospital and I knew she and Reagan were okay, is that there's not a dollar amount in the world that would make me be willing to go back and change that," Stephan says. "That was definitely the coolest thing that we will probably ever do. We don't want it to happen again, but it was a really special thing, it just being the three of us right there, right away."